Once upon a time, I was 10 years old. It was circa 1995—the year the glorious film Clueless was released, starring Alicia Silverstone and a handful of other actors we'd never hear from again.
While so many things make this movie a '90s classic (ie: the fantastic vernacular), it's Silverstone's (a.k.a Cher's) style that really makes the film. Enter the plaid-pleated-mini-and-knee-socks era. Oh what a joy it was…
Totally cutting edge. But beyond the fashion in the movie, it's Cher's state-of-the-art 100% mechanized closet that leapt off the screen and into the hearts of teenage girls everywhere:
With just the click of a button, Cher could create her daily outfit on her avatar, and the computer screen would return a result of "Match" or a flashing red "Mis-Match." Matching: what a quaint notion.
Yes the automated closet that went round and round like a dry cleaner's rack was the ultimate dream closet for any female adolescent of the '90s.
Let's fast-forward 10+ years.
I no longer aspire to have Cher Horowitz's automated closet, but instead an entire bedroom of my imaginary penthouse that will be 100% dedicated to my (dare I say) beyond fabulous wardrobe, the star of which will be the shoes. Natch.
Exhibit A: Khloe Karsahian's shoe closet, as featured in a collaboration between The Coveteur and Elle.com.
Exhibit B: The closet of the incomparable Christina Aguilera, as featured in a 2009 InStyle spread. From the paint color to the leopard carpet to the eye patch-wearing dress form that seems oddly right, it's pure perfection. I can't imagine not having a good time in this closet. Of course I'd probably lose the kid in the diaper.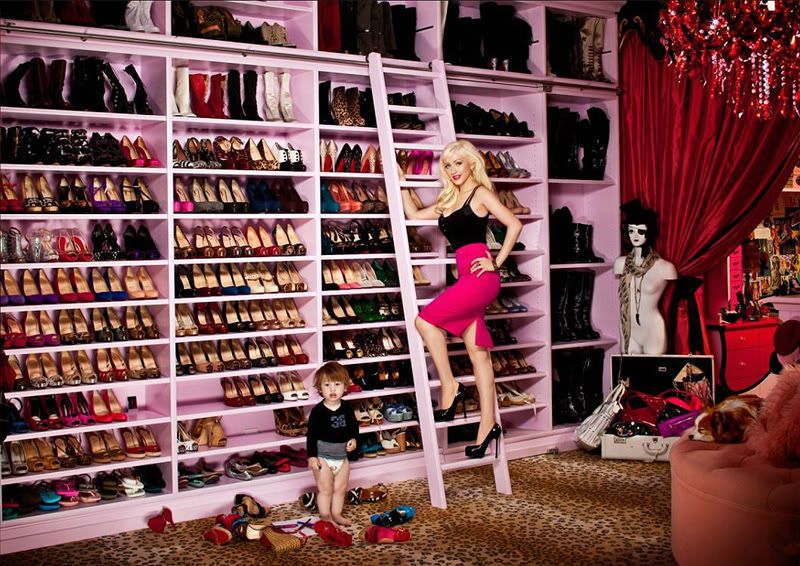 Kinda like porn, huh? I know. You're welcome.
---