Any fashionista worth her salt has watched her share of Sex & the City. Over the years, those involved with the show have said that NYC is the "fifth star" of the show. Well if that's the case, the fashion is the sixth star. Just sayin'. Carrie's looks throughout the show's six seasons have greatly influenced my own style, and I thought I'd recount my top 10 looks:
No. 10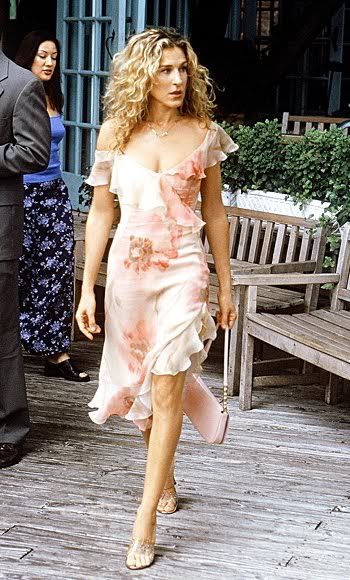 This blush-colored floral number is perfection. Feminine and sexy, it later ends up in a lake in Central Park after Carrie and Big fall in together.
No. 9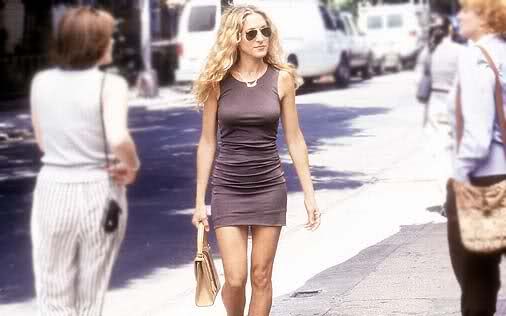 This look is classic Carrie, from the simple, sexy dress to the aviators and her signature "Carrie" necklace.
No. 8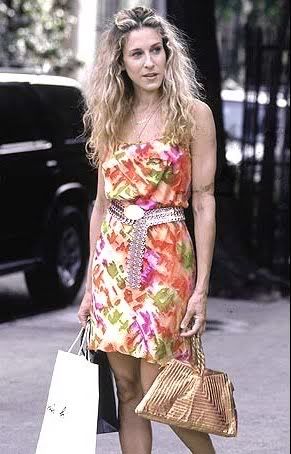 In this episode, Carrie is "searching for the perfect $400 shoes to go with her perfect $4 dress." I actually believe her because the dress looks like it could've been picked up in a thrift store, and this outfit looks as current today as it did when the episode aired.
No. 7
Besides the amazing texture, my favorite thing about this Roberto Cavalli top is that Carrie keeps it following a blowout fight with Aidan over their shared space, which resulted in Carrie attempting to clean out her closet.
No. 6
Risk-taking with a capital R, complete with horizontal stripes, bare abs and Gucci's updated fanny pack.
No. 5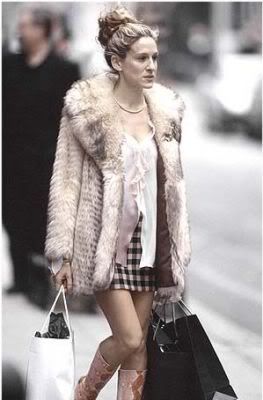 Beyond obsessed with this fur coat. Paired with a mini and mid-calf boots, this outfit is Carrie perfection.
No. 4
I couldn't not include the iconic oversize flower pin. Genius. Not to mention that fierce Dior saddlebag…
No. 3
This newsprint dress by Dior was such a hit, it was brought back for the SATC 2 movie (right). Major.
No. 2
This look makes the list for the different-colored shoes. Move over, Helena Bonham Carter. Carrie did it first. And it's fierce.
No. 1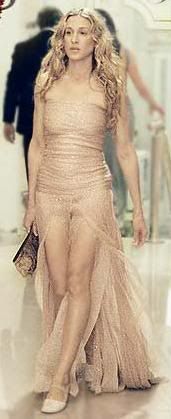 My #1 favorite look: Carrie's Donna Karan dress in The Chicken Dance, season 2. Perfectly nude, without being vulgar. Ethereal. Flawless. I would wear this dress today.
---